Financing Available for Purchases Over $1,000
Two Promotions in One!!
Get a FREE CNC laser mechanical kit with a purchase of a Routakit SD or HD kit on top of our holiday savings coupon! Use coupon code ARCO5 at checkout. (FINAL WEEK)
Available ARCO laser kit sizes for promotion are 500x500mm, 500x1000mm, and 1000x1000mm. Please specify desired size at checkout in the customer notes. Please note that the size you choose is not guaranteed and is dependent upon available inventory.
OpenBuilds C-Beam Machine XLarge
00006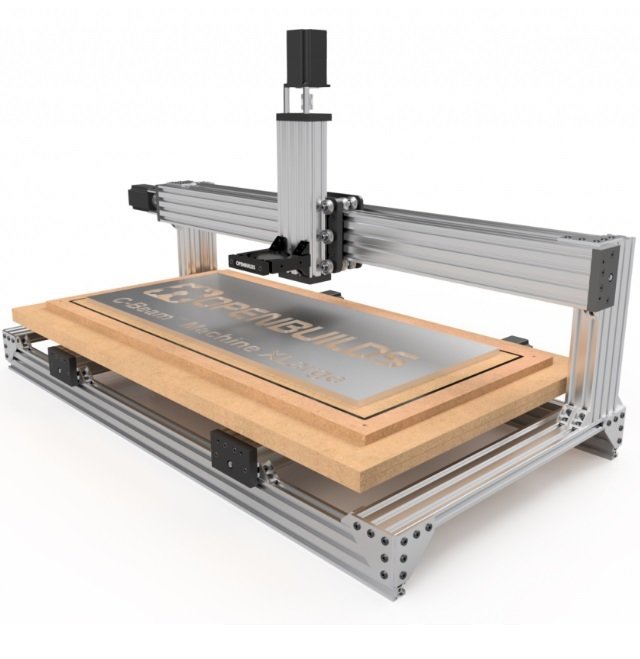 The OpenBuilds C-Beam XLarge is the bigger brother of the standard C-Beam. It features the same C-Beam extrusion and acme drive design while providing over two times the work area. While not technically classified as a desktop model you can still place it on a table or bench and not take too much space in your shop. Get your feet wet in the world of CNC with C-Beam. Included with the purchase of a C-Beam you will get a free set of carbide end mills for cutting wood, acrylic, and soft metals exclusively from us at Routakit.
More than double the work area of the standard sized C-Beam
OpenBuilds C-Beam Specs
X Axis Travel - 750mm (29.5")
Y Axis Travel - 330mm (13")
Z Axis Travel - 2" Actual working depth ~1"
Acme Screw Drive (12mm)
Color: Silver with black plates
Bundle Includes:
Electronics (optional):
Smoothieboard with DQ542MA Stepper Motor Driver (x3)
24v power supply
Bosh Colt Router (Sold Separately)
If the C-Beam XLarge isn't robust enough for your liking no worries we got you covered. Check out our exclusive enthusiast line of CNC kits that blur the line between hobby machines and industrial machines that are considerably more rigid, use real spindles, and feature more professional grade electronics.

Currently shipping within the United States only. Please check out our enthusiast line up if you live in another country.
Routakit LLC is an official distributor of OpenBuilds products
Usually Ships within 2 to 3 days
Nema 23 motor bundle
None (0) Standard (112) High Torque (170)
Add 24v power supply (14.5 amp version)
No (0) Yes (50)
Add xPro V3 Controller
No (0) Yes (130)
Add free end mill set?
Yes (0) YES! (0)