Financing Available for Purchases Over $1,000
Two Promotions in One!!
Get a FREE CNC laser mechanical kit with a purchase of a Routakit SD or HD kit on top of our holiday savings coupon! Use coupon code ARCO5 at checkout. (FINAL WEEK)
Available ARCO laser kit sizes for promotion are 500x500mm, 500x1000mm, and 1000x1000mm. Please specify desired size at checkout in the customer notes. Please note that the size you choose is not guaranteed and is dependent upon available inventory.
OpenBuilds MiniMill
00004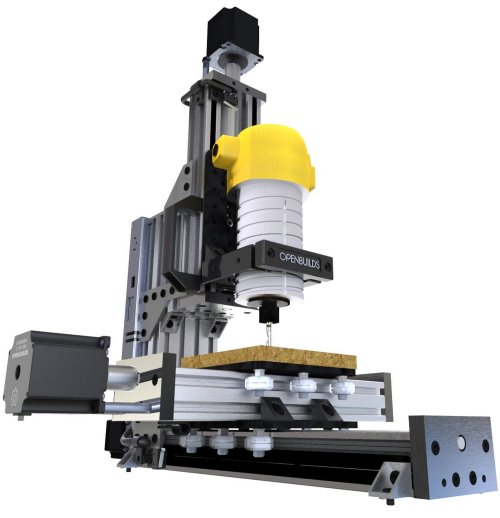 Do you want to learn how to use a CNC machine? Don't have a lot of space in your garage or shop? The OpenBuilds MiniMill is the perfect little CNC for you. Get your feet wet in the world of CNC without needing to spend a whole lot with easy to build step by step instructions. Included with the purchase of a MiniMill you will get a free set of carbide end mills for cutting wood, acrylic, and soft metals exclusively from us at Routakit.
Cut functional parts to be used in prototypes.
Do relief engravings and 3D carvings out of foam and wood.
Even cut aluminum or other soft metals. Also perfect for etching printed circuit boards.
So what are you waiting for? Get the OpenBuilds MiniMill and start learning the ins and outs of CNC machining without breaking the bank. It also makes for a great gift so pick one up in advanced for the upcoming holiday season before they become hard to get.
OpenBuilds MiniMill Specs
X Axis Travel: 120mm - (4.5")
Y Axis Travel: 195mm - (7.5")
Z Axis Travel: 80mm - (3")
Acme Screw Drive (12mm)
Color: Silver with black plates
Bundle Includes:
Electronics (optional):
xPro control board
24v power supply
Bosh Colt Router (Sold Separately)
Currently shipping within the United States only. Please check out our enthusiast line up if you live in another country.
Routakit LLC is an official distributor of OpenBuilds products
Usually Ships within 2 to 3 days
Add Nema 23 stepper motor bundle?
No (0) Yes (84)
Add 24v power supply?
No (0) Yes (50)
Add xPro Controller?
No (0) Yes (130)
Add a free set of end mills?
Yes (0) YES! (0)