Routakit SD + Starterkit
0002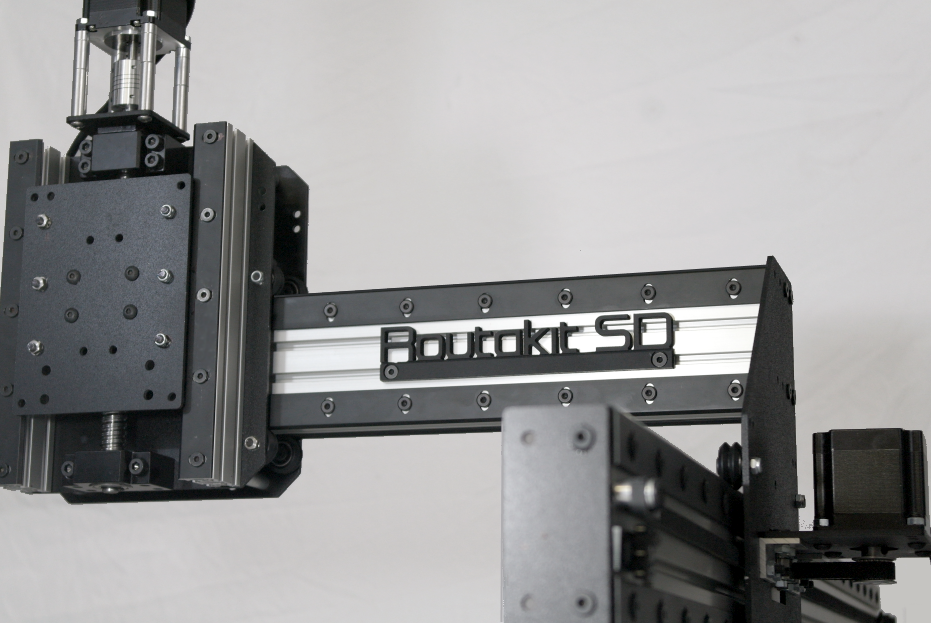 The Routakit SD is our baseline machine offering excellent performance in its class for cutting wood, plastic, and aluminum. Featuring 0.19in thick plates for high rigidity and strength, a stiff 4080 extrusion as the gantry, 100mm/4in of clearance, and a 250mm/10in tall industrial grade ball screw for the z-axis (4 inches of travel) .
The starterkit is a complete* out of the box experience including everything you need to get started on your CNC projects! (* Does not include MDF wasteboard due to high shipping cost. We recommend sourcing this from your local hardware store.)

Current Lead Time: ~3 weeks from date of order

---
Need even more rigidity? Consider adding our SDX upgrade package to strengthen up the frame and carriage assembly via additional extrusions on the X and Y axis, additional v-wheels, and additional spacers/hardware. Great for handling the extra power and forces associated with our optional 1.5kw spindle upgrade for cutting into harder material deeper and faster.

---
Do you want to reduce your build time by half? Consider adding in our pre-built x,y,z axis assembly option in which we will expertly assemble the main mechanical parts for you so that you can get to cutting and carving in no time. *May add 3 to 4 additional days to lead time.

---
---
Includes:



Routakit SD Mechanical Kit

4x Nema 23 175oz Stepper Motors

Power supply

Planet CNC controller (with USB cable) or BlackBox Motion Control

4x Planet CNC 2.5a Motor drivers

3x Limit Switches (contact)

Planet CNC software license

Cables for motors and limit switches

Optional accessories and upgrades available.
---

Specs:

Footprint for 1000x500mm size: 1010mm x 513mm (39.75in x 20.2in)

*measured from base

Footprint for 1000x1000mm size: 1010mm x 1013mm (39.75in x 39.8in)

*measured from base




Footprint for 1000x1500mm size: 1010mm x 1513mm (39.75in x 59.5in)

*measured from base




Work Area for 1000x500mm size: ~760mm x 320mm x 140mm (30in x 12.5in x 4in)

*measured from base

Work Area for 1000x1000mm size: ~760mm x 760mm x 140mm (30in x 30in x 4in)

*measured from base

Work Area for 1000x1500mm size: ~760mm x 1220mm x 140mm (30in x 48in x 4in) *measured from base


Rapids: 7620 mm/min (300+ in/min) Recommended, 12700 mm/min (500 in/min) Maximum


Plate Material: .19" 6061-T6 aluminum and A36 Mild Steel


Rail Material: 6061-T6 aluminum Open Rail


Belting: 9mm wide, 3mm pitch GT2


Ball Screw: 16mm diameter, 250mm length, 5mm pitch


Stepper Motor Size: 175oz Nema 23


Max Supported Spindle Size: 800w (1.5kw with gantry upgrade)


Repeatability: .025mm - .05mm (.001in - .002in)


Accuracy: +- .127 mm (.005 in)
Please click the following link to learn more about the MK Planet CNC controller series.
Please click the following link to learn more about the BlackBox Motion controller.
---
Are belt drives any good? Do they lose position? Watch the video to find out.
The Routakit SD is both versatile and affordable while supporting higher end hardware found in more expensive machines.
Make beautiful relief carvings at up to 2x4 feet in size
Upgrade to an electronics enclosure for a more professional look! Includes on/off switch, jogging buttons, opto board, and more.
Relay Board for Software Based Spindle/Coolant Control
SDX Upgrade Package (Clear Anodized Only)
Pre-built X,Y,Z Axis Assemblies